Wat Phra That Doi Suthep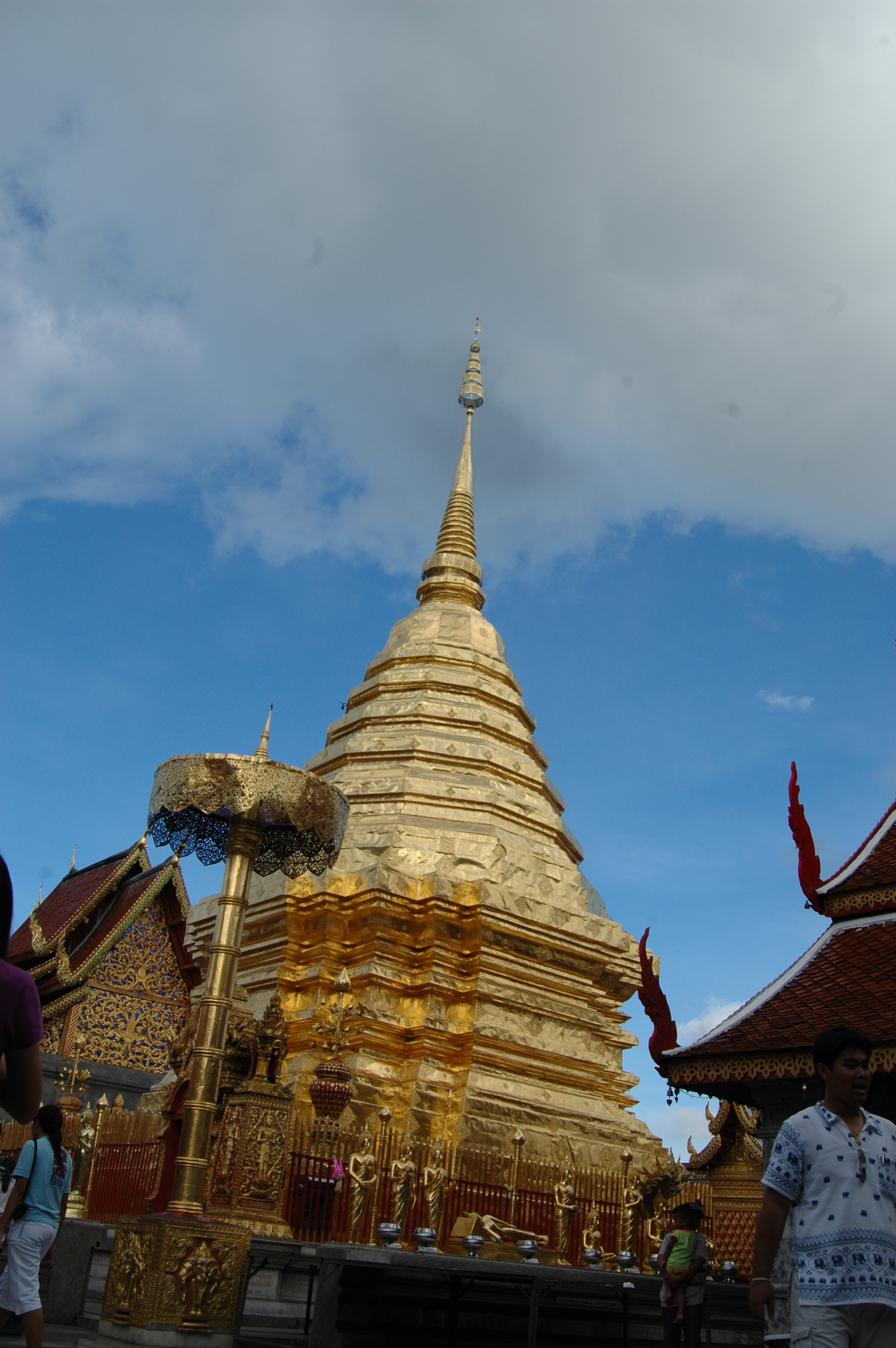 Perhaps the most famous and important temple in Chiang Mai every visitor must pay a visit. On top of Doi Suthep Hill, at 3,520 feet above sea level, finds the revered golden Phra That (chedi) of Wat Phra That Doi Suthep rises against the sunlight. The temple was built in 1383 to enshrine Buddha's relics. You can actually drive uphill to the higher platform but a lot of devout Buddhists choose to pilgrim by walking 290 steps up to the hilltop. After praying the Phra That for good lucks, don not forget to proceed to the terrace to soak up panoramic views of Chiang Mai town and surrounding countrysides.

Opening hours: 6.00 am - 5.00 pm
Wat Chedi Luang Varavihara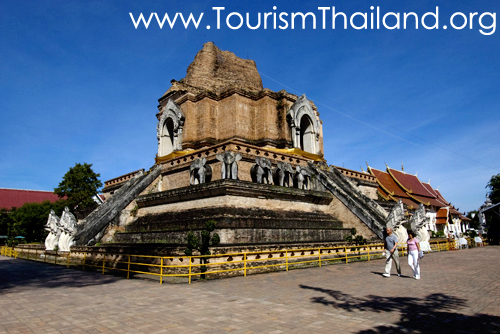 "Luang" means "large" in northern dialect, and as the name suggests, Wat Chedi Luang temple is home to Chiang Mai's largest Buddhist chedi built featuring 98 meters tall and 54 meters in diameter. The construction of the orginal chedi was completed in 1481 during the reign of King Mengrai. But the current Chedi Luang is an restoration according to the deconstruction of the chedi in 1545 due to an earthquake. The ordination hall located in the front is also an example of beautiful Lanna architecture with its serpents are probably one of the most remembered elements.

Opening hours: Daily 8.00 am - 5.00 pm
Wat Phra Sing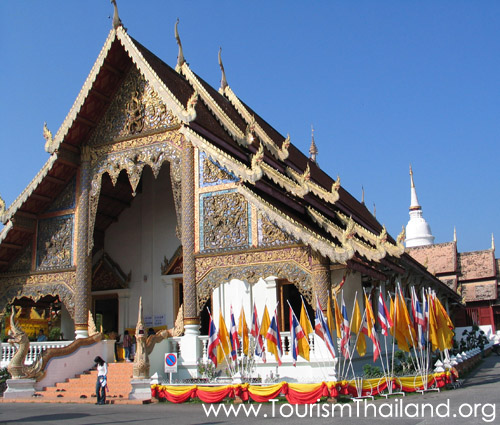 Located on Sam Lan Road, Wat Phra Sing's Wihan Lai Kham is home to Phra Phutthasihing, Chiang Mai's most sacred, Chiang sean-style Buddha image. During the Songkran festival, every April 13-15, Phra Phutthasihing is carried in a parade procession around town so locals can bath the image with scented water, which brings good luck according to a traditional belief.

Opening hours: 8.00 am - 5.00 pm
Thanon Kon Dern Chiang Mai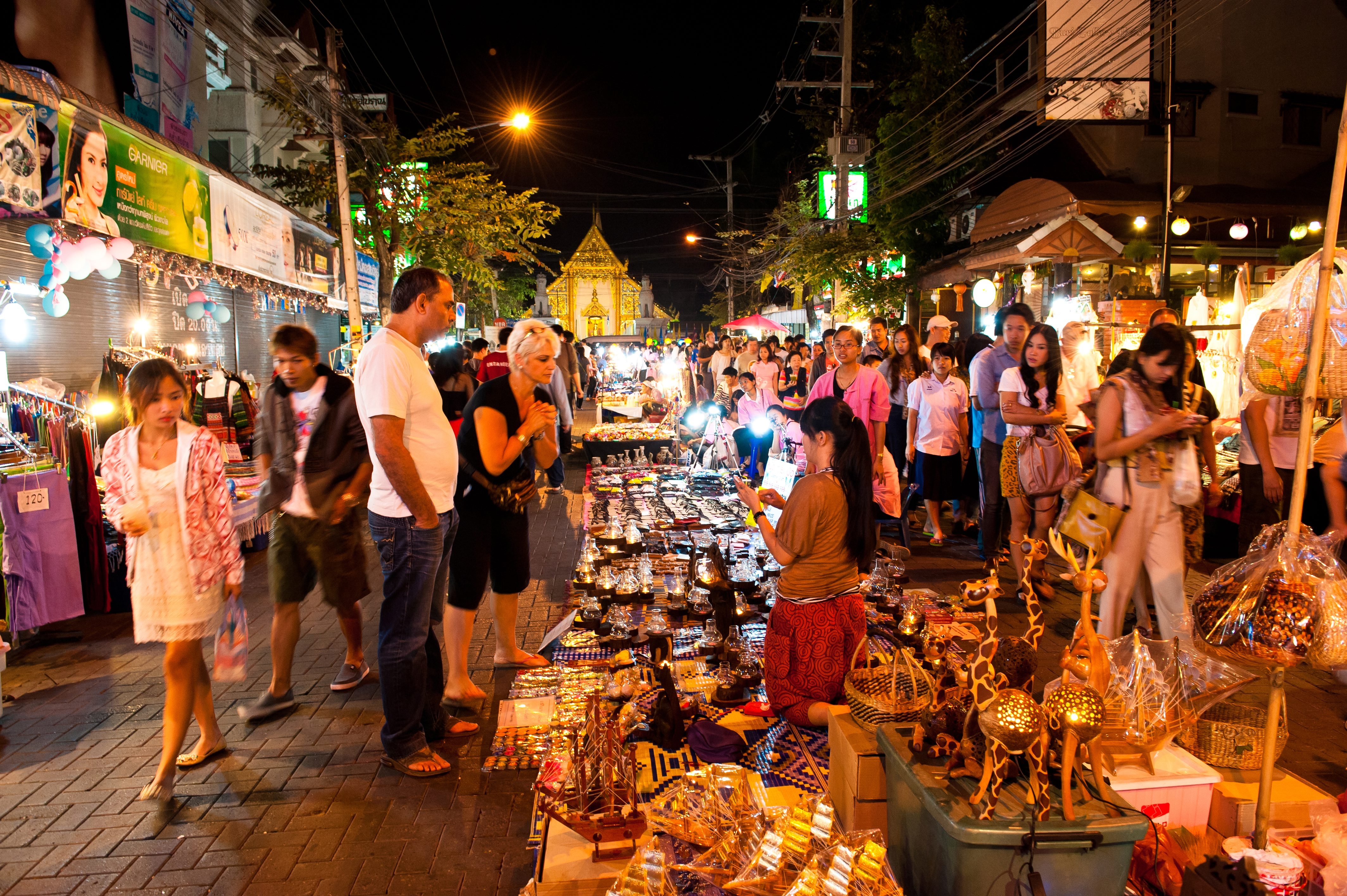 Thanon Kon Dern (or a walking street market) is located in Amphoe Muang. Every Saturday and Sunday, Chiang Mai municipality will close some of the roads for local people to bring out their handicraft products for sale. The area receives high interest among tourists from every parts of Thailand, and also from various foreign countries, such as Europe and Asia. Thanon Kon Dern in Chiang Mai has 4 spots.

1.Thanon Kon Dern Wua Lai (Saturday market) is on Wua Lai Street, near Chiang Mai gate. It is open only on Saturday from 5 p.m. to 10 p.m. Most of the sellers are local villagers living at Wua Lai street. Therefore, the street market here has a smaller space than Thanon Kon Dern Tar Paer. The village on Wua Lai street is home to silverware craftsmen. This village both creates and sells their handmade silverware. Moreover, tourists can enjoy shopping other local products as well.
2.Thanon Kon Dern Tar Paer (Sunday market) is on Tar Paer Street heading to Ratchadamnoen Road. It is especially open on Sunday from 5 p.m. to 10 p.m. This market place sells products that come in larger size. A variety of products can be found here. For cultural goods or local products, there are accessories , clothes, souvenirs, bags, scarves, lamps, etc. Fashionable stuff can also be purchased here at this Sunday market, including food, such as Kanom Jeen Nam Ngeaw (Fermented Rice Noodle in Pork Rib Soup), Kanom Jeen Namya (Noodles With Thai Fish Curry). For a winter visit, roaming down this street market can give you another enjoyable experience. Thanon Kon Dern Tar Paer is the biggest walking street market in Chiang Mai, and receives high popularity among Thai and foreign visitors.
3.Kad Ton Gong (Saturday Morning market) is on every Sunday morning at San Sai Ton Kok community, Tambon Fah Haam. At the market, shoppers will be fascinated with a variety of products ranging from local goods, traditional food, organic crops to flowering and ornamental plants. Moreover, travellers can watch How-to raise a quail demonstration by local youth, enjoy cultural performances by farmer group, and admire handmade drums by traditional craftsmen. Apart from this, visitors can sail on a boat trip, and appreciate people's ways of life beside Mae Ping river as well.
4.Thanon Kon Dern –Sai Sankampang handicraft route Every Saturday from 3 p.m.-10p.m., Sankampang street market is open for tourists to shop for handicraft products, food, souvenirs while enjoying Sankampang traditional music along. Around the joining Laampoon-Chiang Mai route, in Amphoe Sarapee, on Sai Ton Yang street, there's another street market called Thanon Kon Dern Yang Nerng. The market is open at 5 p.m. every Saturday. The products sold here range from agricultural goods such as organic vegetables, ceramic OTOP products, basketworks until mass produced clothes, Thai desserts, and household equipment. This street market fully facilitates the disabled and the elderly people. The market path includes an especially designed slope for the handicapped. All walking paths are linked together in a level smooth surface, making every paths and corners accessible for the wheel chair users.
Ratchaphruek Garden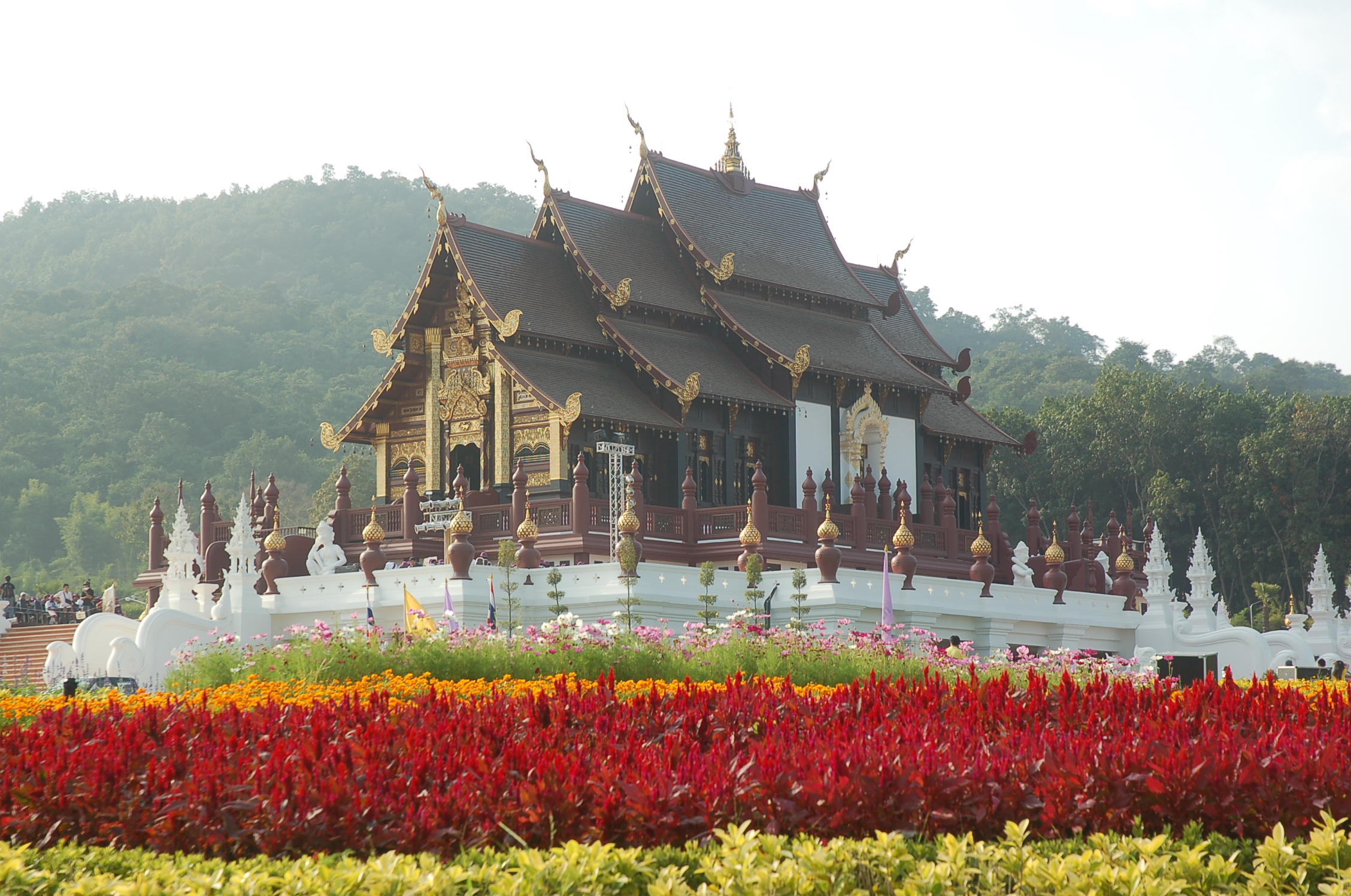 After the success of the Royal Flora Ratchaphruek, a world-class horticulture expo to celebrate the auspicious occasions of HM King Bhumibol's 60th anniversary of his accession to the throne and his 80th birthday in 2006-2007, Thai Cabinet decided to maintain the condition of the park as the newest travel destination of Chiang Mai. The Royal Park Ratchaphruek sits in Mae Hia sub-district and covers an area of 240,000 square meters, divided into different zones you need to spend the whole day here. Perched at the center is an authentic Lanna architecture of Ho Kham Luang Royal Pavilion where a painting exhibition about the life and works King Bhumibol is displayed inside. Visitors should not miss to visit the Orchid Garden to see rare orchids and International Gardens to hop into different styles of gardens curated by different participating countries, such as South Korea, China, Japan and Bhutan, to represent their cultures. Other zones include the World of Insects, Rare Plants and Corporate Zone. Trams are provided and do bring an umbrella as it can be really hot during the day.

Opening hours: Daily 8.00 am - 6.00 pm

Admission: 100 baht for adults, 50 baht for children.

Contact: 053-114-110/-5, http://www.royalparkrajapruek.org
Doi Inthanon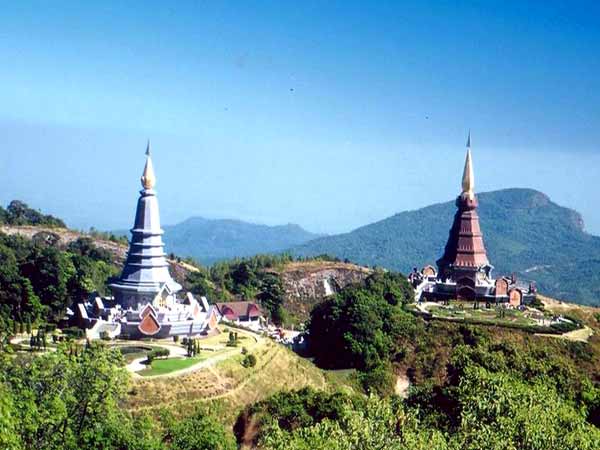 Doi Inthanon is the highest mountain in Thailand, yet the easiest and most comfortable to visit, as there is good road access. Approaching Doi Inthanon the first landmark is Mae-Ya waterfall, one of the most beautiful and grandest in Thailand. It originates from the Mae-Ya River that flows down against rocks and cliffs over 280 meters high and 80 meters wide. At eight kilometers is Mae-Klang waterfall where tourists come to have a picnic in the cool shade. Close by is Brijinda cave containing exquisite, stalagmites and stalactites, and underwater Buddha statues. Vajiratan and Siritan waterfalls at 21 km offer stunning views of rainbows and thick abundant green forest even in the middle of the day.
The Inthanon Royal Project Research Station is situated in Mong Khun Glang village. The building is decorated beautifully with a winter plant glasshouse and offers cozy accommodation and a restaurant. Siripoom waterfall (originally known as Lao-Lu Fall among locals) at 30 km. gives a spectacular view of two streams of white water. On the right side of the road not far from Doi Inthanon National Park Office is a line of wooden stalls where villagers come to sell their agricultural products, fresh and processed, from early morning until the evening. This is called Mong market. Drive on for another 4.5 km. and you will arrive at Doi Pa-tang, twin cliffs on a mountaintop, another magnificent viewpoint of Doi Inthanon. Pra Maha Tat Napametaneedon and Pra Maha Tat Napaponpoomsiri are perfect spots for blossoms viewing and watching the sunrise and sunset.
There are both short and long nature trails in Doi Inthanon for tourists of all abilities and ages. Giw Mae Pan is a short trail of approximately 3 km. abundant with wild flowers such as rhododendron, white roses, and orchids that bloom colorfully in the late winter. You may also find Chinese gorals prancing in the morning if you're lucky. In addition, Ang Ka Luang nature trail on the top of Thailand is 2,560 meters high and can be reached by car. The highlights of this trail are the moss and fern covered trees rhododendrons, and green-tailed sunbirds.

How to get there
From the centre of Chiang Mai, take Highway number 107 to Jomtong sub-district then take a right signposted Doi Inthanon.
Mae Sa Elephant Camp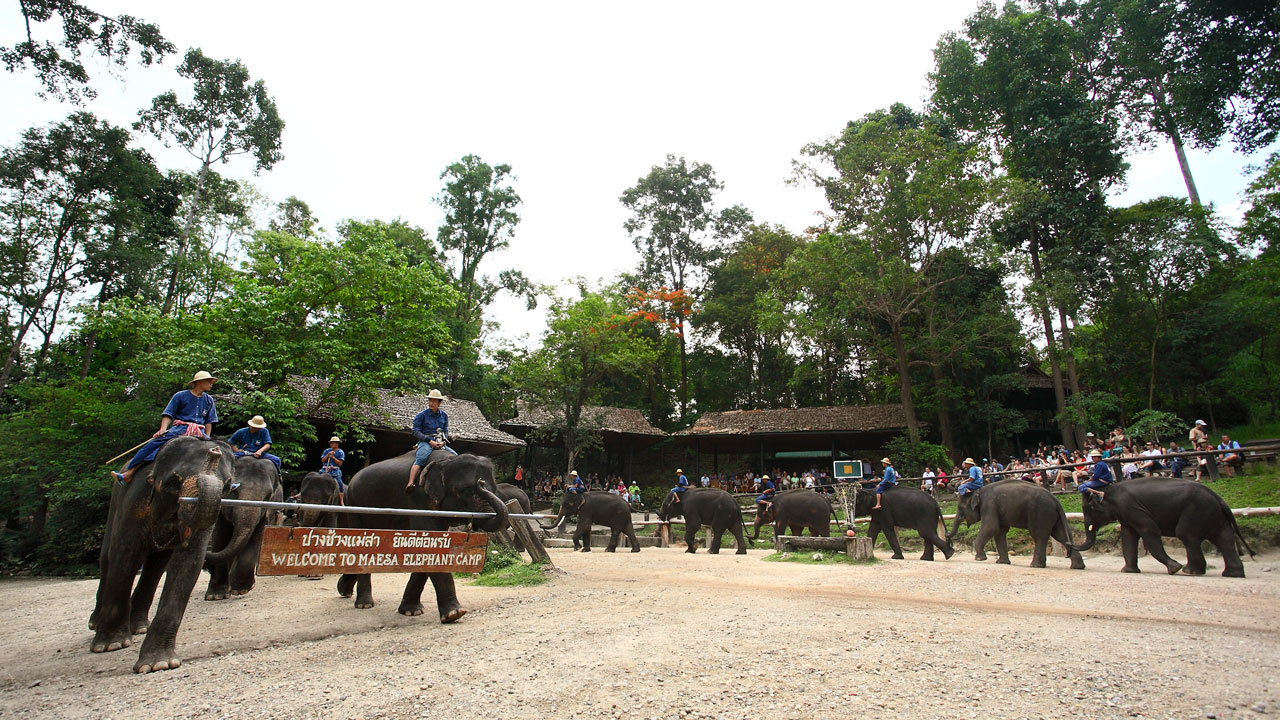 The valley of Mae Sa Elephant Camp is where you could spend the whole day with one of their 70 cute, giant mammals, amid the natural environment. With more than 30 years of caretaking experience, Mae Sa offers choices of activities you can choose to experience, from watching shows of talented elephants, a parade of elephants as well as learning how the mahouts (elephant caretakers) take care of their giant friends.

Opening hours: 08.00 - 17.00

Contact: 053 206247, 053 206 248, www.maesaelephantcamp.com